Way 2 Pay is the system used by the LMETB to collect parent contributions. The administrator will help set up your profile and you will easily be able to schedule payments via the website and app. The school does not accept cash as we are a cashless school under the patronage of LMETB. 
The images below provide you with an overview of how to use Way2Pay. To read the full support document, click here.
Way2pay Parents Dashboard
Introduction:
Way2Pay has been designed to help parents manage school payments from a planning and paying perspective. We offer ultimate convenience, enabling secure on-phone payments without passwords.
Paying: most bills are paid without parents logging in. This is wonderfully convenient as you do NOT have to remember a password to access Way2Pay. You will receive an SMS/Text Message from the school requesting payment for various bills and activities. Each SMS has a unique code linking that request to your child.
What to expect: 'Please pay for your child's (Ryan Boyd) school activity (Trip to Aran) by clicking on the following link'. You simply click on the link you are taken to your own dashboard listing any outstanding bills for Ryan.
Planning as you can access the system at all times you can pay for school fees, trips and activities in installments over time. Many schools will send out payment requests early so that parents have a good chance to budget.
In this section we will show parents how to best login and best use Way2Pay.
We will take you through paying without logging to using all the functions on your dashboard. The functions included are
How to Pay a School Bill on my Phone, 'Pay by Text'
How to Login to Way2Pay for the first time
What can I do if I have forgotten my username and/or password?
o Send me a link to pay
o Send me a link tu Jebel my password
How to Pay on any Device
How to View Payment History
How to Print Payment Receipts
How to Contact Way2Pay Support
 View Way2Pay Support Videos
How to Pay a School Bill on my Phone
'Pay by Text'
Step 1: You will receive an SMS from your school, click on the link and follow the instructions.
Step 2: Answer the security question and click submit. Example of question; enter last 3 digits of your phone number.
Step 3: Select pay bills from the menu
Step 4: Press the PLUS sign beside the bills you wish to pay, agree T&C and click pay now.
Step 5: Click 'Pay Now' to enter secure payments page.
Step 6: Complete the payment for your child's event.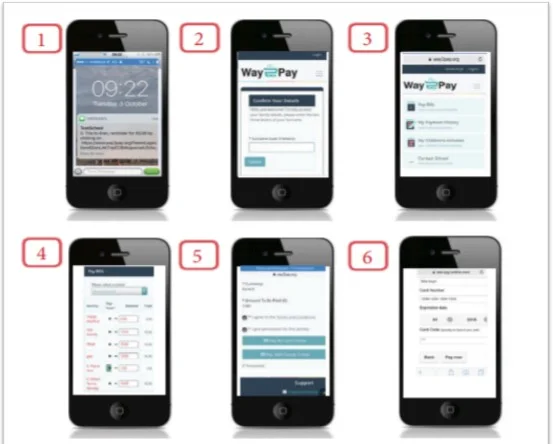 How to Login to Way2Pay for the first time
Step 1. Go to www.way2pay.org and select the "Login".
Step 2. Your mobile number Enter for both "username/ password" options, click "Login". Ensure the number entered is the number your school has on record and it is in 35387xxxxxxxx format.
Step 3. When logging in for the first time, the website will redirect to a "password reset page", this will allow you to enter a new password of your choosing.
Step 4. Enter your mobile number in the "confirm username" box then enter a new password.
Step 5. When new password is selected, click on "change password".
Step 6. When your password has been reset your parent dashboard will open. 
What can I do if I have forgotten my username and/or password
(Devices my Phone/PC/ Laptop /iPad/ Tablet etc.)
Step 1: Go to httos://www.wav2pay.orgcan click login, enter your username (mobile phone number in35387xxx format) and password. From your dashboard you can do manage all your school payments pay bills, view history and print receipts.
Step 2. Select "Pay Bills" option on the left hand side of the screen.
Step 3. On the "Pay Bills" screen all active bills will be listed under "Activity". In the example below I want to pay "Trip to Aran" for my Ryan.
Step 4. Click on the "Pay Now" option by clicking the plus sign. You can edit the payment amount before clicking, in the example I only want to pay Cl off a CS bill.
Step 5. Go to the bottom of the screen, tick to agree to the T&C and give permission for participation in the event and click 'Pay Now by Card Online'
Step 6. When payment has gone through successfully, you will be redirected to your dash board.
Step 7. "Item added successfully" message will appear on the top of your dash board, along with an update in your "recent payments" box.
Step 8. For further information on your payment, select "My Payment History" on the left hand side of the screen.